Scumbags – Directed By: Chris K. Daniels | Written By: Samuel Caswell
Scumbags is a playful, tongue-in-cheek approach to the crime genre, using black comedy elements reminiscent of Fargo-esque storytelling. Following the unexpected reunion of jewel thief Vincent and con artist Marco, the two share a tentative history which as they make up for lost years, becomes increasingly evident. Excitement and competition simmer as they share their latest criminal achievements, but this soon reaches its boiling point and turns into something a little more sincere.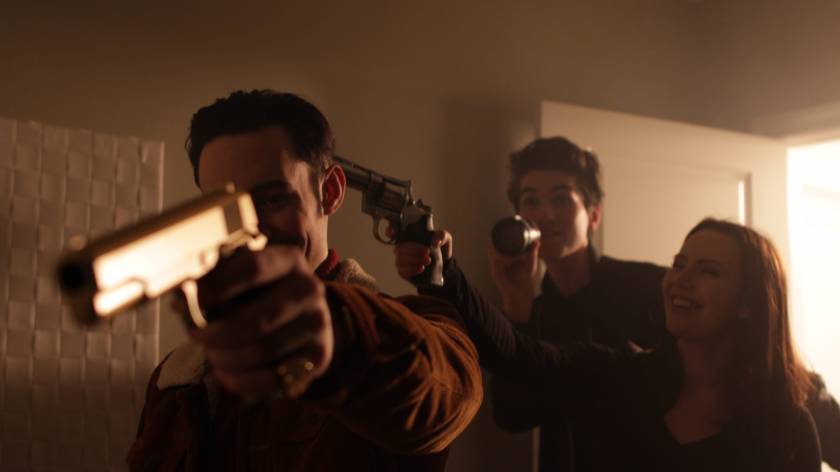 The Style
Chris K. Daniels directing contains an abundance of momentum in both dialogue and editing. The script is breezy, bouncing rhythmically between our two main characters. Accompanying them is a brilliant percussion score which reinforces fast-paced storytelling and unpredictability with free-form, scattered drums. Camera movements work like a sidescroller, dollying to the side quick enough to see the reactions of our characters in real-time. When the dialogue becomes too quick for cuts, the composition changes to split screens and allows the spectator to witness the nuances in Vincent and Marco's body language. This becomes more important as the conversation intensifies, and it becomes clear that this is a battle of control between two unreliable narrators. As viewers, we are weighing up the power and trust of both, desperately attempting to guess their fates and ends.

The Composition
The composition of the split screen, as well as the colorful intertitles introducing the character names. It projects themes of motion graphic novels and comics. This works perfectly with the big personality. And the character-led story. Bringing you anecdotes and lots of farce, Daniels has mastered several storylines with effective transitions and match cuts. Consequently, temporal and narrative space is threaded together to keep the film succinct despite its unreliable, untrustworthy narrators.

In Conclusion: Scumbags
Bringing you a wealth of buzzing anecdotes and many potential outcomes. This diamond robbery-meets piss drinking-meets a scandalous affair story is a true tapestry of the crime/black comedy genre.