If you're planning on hosting a film festival, it's important to create an eye-catching and effective poster to advertise it. In this blog post, we will provide tips and tricks for making a film festival poster that will stand out and draw in filmmakers, moviegoers and beyond!
The Broad Elements
When designing your poster, there are a few key elements to keep in mind. Firstly, make sure to include the name of your festival prominently, as well as the dates and location. It's also important to choose an attractive image or graphic that represents the theme of your event – this could be a still from a film, or something more abstract.
For the sake of efficiency, I find that the most important things to keep in mind in order to create a film festival poster that people love:
Big, bold title of the festival

Clean, easy-to-read font choice

Bright yet intentional colors

Dates and locations included

Some sort of "main subject" bringing eyes to the center of the design

A tagline (optional)
1. Large Text For Your Film Festival Title
The most important part of your poster is the title of your event! So don't miss on this aspect of the design. The title should be big, bold and easy to read from a distance. You want people to be able to see it from across the street and know exactly what your event is. In terms of font choice, you can go with something classic and easy to read like Helvetica or Arial Black. But make sure the color contrasts well against the background – black on white is always a safe bet, but I'd recommend going more aggressive than that.
2. Easy-To-Read Fonts Are Crucial
As I mentioned before, the font you choose for your poster is important. Not only should it be big and bold, but it must also be easy to read. This is especially important if you're planning on putting your poster up in a busy area like a train station or downtown street. Stick with classic fonts, like I said. And with that, be sure to use a "sub-font" on the festival information that's lighter than the one used for the title. So if you were to use "Lato Black" for the title, you'd want to use "Lato Regular" for the body. It's clean, easy to read, and keeps design harmony.

3. Eye-Catching Colors and Design
Once you have these basic elements in place, you can start to get creative with fonts, colors and layout. However, don't go overboard – sometimes less is more when it comes to design! A simple but effective poster will be much more successful than one that is overly busy or difficult to read. Here are some examples of excellent film festival posters utilizing bright colors in their design.

4. Specify The Date, Location, and Other Details of Your Event
And finally, make sure to include all the relevant details of your event on the poster! This includes the date, time, location and any other important information. If your film festival is ticketed, be sure to include ticketing information as well. The last thing you want is for people to show up to your event and not be able to get in because they didn't know they needed a ticket!
5. Include Some Sort of "Visual Subject" in Your Poster
Generally, it's best to include something visual in your poster that will bring people's eyes in. The obvious design choice is a camera or a reel of film. No matter what you choose, something like this is best for making your film festival poster call to people.
Again, here are some great examples of posters utilizing wonderful subjects in their design:

6. Taglines Aren't Necessary But They Can Help
A tagline isn't necessary for every film festival poster, but if you have a clever one that sums up the event nicely, it can be a great addition. Just make sure it's short, sweet and to the point.
For example, Chicago International Film Festival's Tagline is:
"Because Life is a Movie"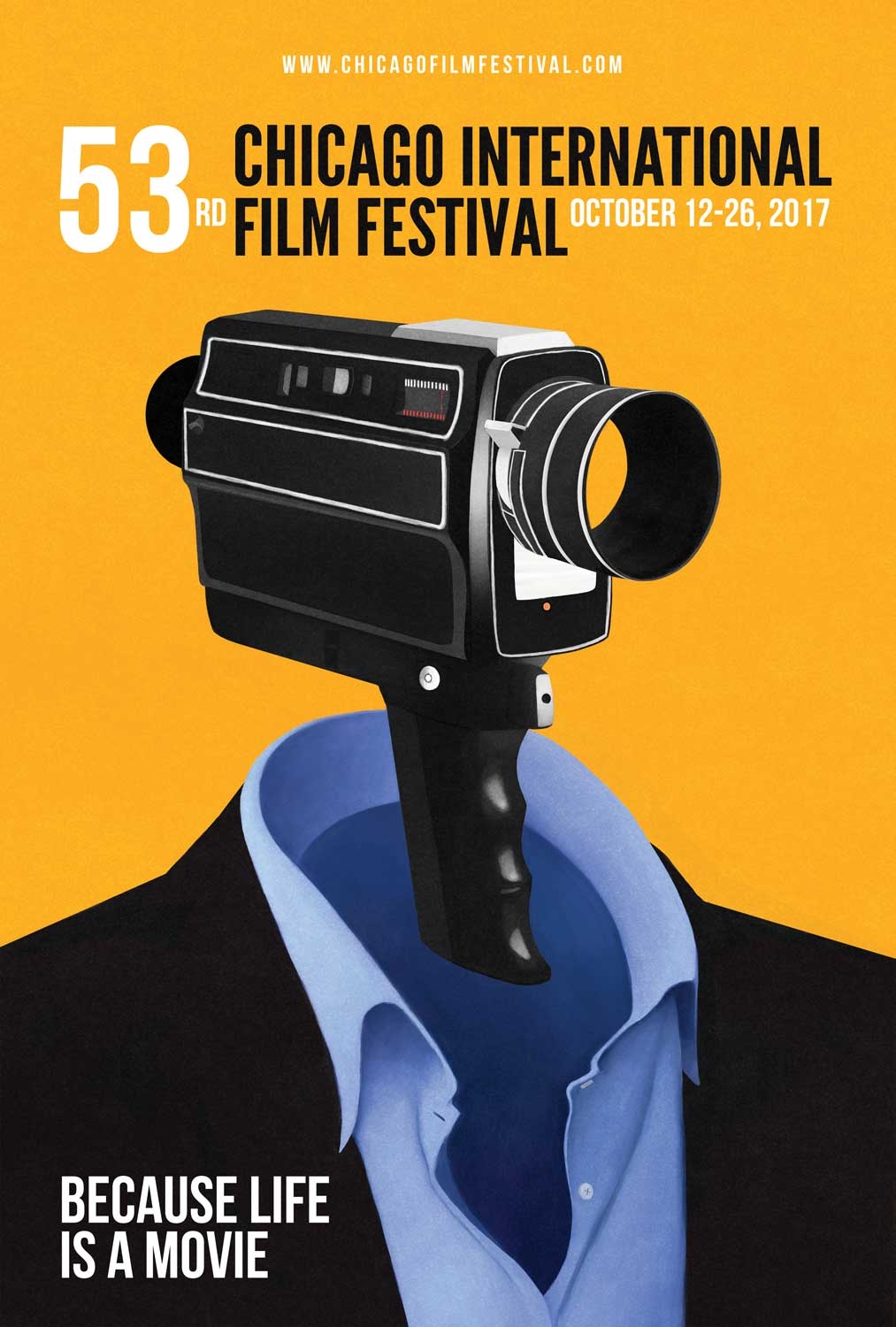 In Conclusion: How to Make a Film Festival Poster – Tips and Tricks
Making a film festival poster is much easier than it seems! Just remember to keep it simple, use easy-to-read fonts and include all the relevant information about your event. And most importantly, don't forget to have fun with it! Designing a poster for your film festival should be a creative and enjoyable experience.
Now that you know the basics of making a great film festival poster, get out there and start designing! I can't wait to see what you come up with.
If you need any help, feel free to reach out to us!
Designing a poster for your film festival doesn't have to be difficult – just follow these simple tips and tricks!
Additionally, Want To Improve Your Festival Submissions This Season?
DOWNLOAD OUR (FREE) FILM FESTIVAL POSTER TEMPLATE